---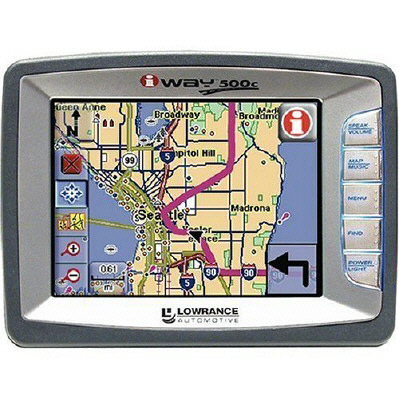 The fully loaded Lowrance iWay 500C Automotive GPS+WASS Receiver with MP3 Player not only gets you where you need to go, but it also lets you relax along the way with your favorite digital music files. Simply pick a destination via the easy-to-use touchscreen display, choose your favorite tune, and you're on you way. The iWay 500C will automatically display the best route and give you turn-by-turn directions with voice and visual guidance while you listen to your music. And being WAAS-enabled means that the iWay 500C is accurate within three meters, making it a great fit for scavenger hunts as well as road trips.


When it comes to navigation, the iWay 500C features both street address searching and best auto-routing choices that help you to choose the most efficient route. With these options, you can choose which toll road or interstates to choose or avoid, and you can find a route that avoids left-hand turns. The unit's mega-memory storage gives you access to up to 1,000 waypoints. The hard drive also holds a ton of other information as well, including a preloaded Navteq turn-by-turn database with maps of the entire continental U.S. and Canada. With the internal USB port, you can update the maps with your PC, ensuring that you have the most up-to-date information available.

With so many advanced GPS features and an easy-to-use interface, it's easy to see why the iWay 500C was the recipient of PC Magazine Editor's Choice Award and Laptop Editor's Award in 2005. But the iWay goes a step further by making sure that when you are relying on it to make your way, you'll never have to compromise on road safety. In addition to its voice guidance feature, the iWay 500C sports a Safety Passenger mode that allows a passenger to use the GPS features while the car is in motion. An easy-to-read five-inch diagonal display features a super-bright, backlit screen and sleek blue LED backlit keypad. These features combine to offer superb readability even under bright, sunlit conditions.

The iWay 500C is also designed to help you enjoy your time on the road. You can enjoy up to 10 GB of digital music files, or 5,000 compressed MP3s (depending on method of compression) on the device, which includes such music functions as browse files, play lists, repeat, shuffle, scan, and equalizer. Among the accessories that are included with the iWay 500C are a speaker/cigarette power adapter with volume control and 0.125-inch stereo jack, a hardwire adapter with 0.125-inch stereo jack for wiring into car's stereo system, and a suction-cup mounting bracket for windshield applications. The compact unit measures 6.1 by 4.5 by 2.15 inches (W x H x D) and carries a one-year warranty.



Includes:

iWay 500C GPS/MP3 player, cigarette lighter adapter with volume control and 0.125-inch stereo jack, hardwire adapter with 0.125-inch stereo jack, suction cup mounting bracket, USB cable, 110-volt AC to 12-volt DC power adapter, protective cover, touchscreen cleaning cloth, user's manual.