---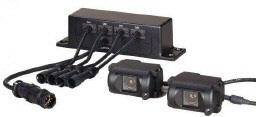 Automatic or Manual Multi-Camera Observation System

Our new fully electronic camera switching observation system allows up to four cameras to be sequentially viewed using our 6.8" LCD monitor (sold separately) with cameras strategically placed on any towed vehicle for critical observation of it's operations. The electronic keypad that is attached to the monitor automatically selects each camera in sequence, and allows you to control the scanning speed. Cameras can also be manually selected by depressing the desired camera push button. Individual LED's illuminate to indicate which of the four cameras are being displayed on the monitor. The system automatically determines how many cameras are connected and will only scan the connected cameras.

VOS4000 System Includes:

Keypad and Bracket - Designed to attach to Voyager 6.8" color monitor
Distribution Box
Two #VCCS130B Cameras (exterior of camera is black)
Two 25 ft Camera Cables (#CEC25)
Two Bulkhead Camera Cables

The VOS4000 is an optional add on to the VOS681 series. You will need VOS681 or VOS681CS to intall this option.