---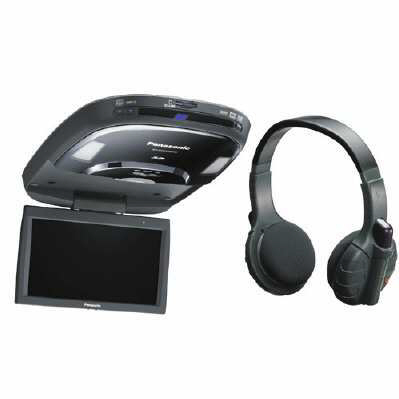 Take Your DVDs on the Road
Take your DVDs on the road1 with this large, 9" diagonal, 16:9 widescreen LCD that delivers clear, high-resolution images. Intended for overhead installation, this LCD conveniently flips-down and has dual VTR inputs (RCA) for simple connection of a gaming console, TV tuner, camcorder or whatever other video source might please your rear-seat passengers. For added convenience, this monitor also can be adjusted to various flip-down and left/right viewing angles.

Built-in DVD Player
Keep your rear passengers entertained in more ways than one with this DVD player. It can play DVD-Video, music CD or MP3 files (stored on CD-R/RW discs).

Built-in SD Player for Added Entertainment
There's also an SD slot on the front panel so you can play music (MP3, AAC files), show video clips (MPEG4 files) and still images (JPEG files) stored on SD memory cards, thereby expanding your in-car entertainment options.

Theater Like Sound-In Your Car!
Right from the start, the CQ-VHD9500U comes with built-in 2-channel downmix Dolby Digital.2 decoder to deliver theater-like surround sound in your car.

Enjoy One Program While Rear-Seat Passengers Enjoy Another
This unit has a built-in IR transmitter which beams the sound signal to listeners using the included wireless headphones. When used in conjunction with Private Mode, front-seat passengers can enjoy one program while rear-seat passengers are entertained by another. Here's how: When the function is activated, rear speaker sound is muted, while the sound for the rear is transmitted to the wireless headphones. To headphone listeners, the front speaker sound becomes almost inaudible, and vice versa, so each side can choose their preferred content without annoying the other.



Video feature is designed to function only when vehicle is parked and emergency brake is applied.
Dolby Digital and Pro Logic are registered trademarks of Dolby Laboratories


*****************FREE WITH PURCHASE:

SV-AV25 D-Snap SD Video Camera with Flip-up LCD

Records MPEG4 Video
The SV-AV25 is great for recording video on the go. It records MPEG4 video at 30 frames per second, so you get smooth, natural-looking action footage without a choppy "frame-by-frame" effect. MPEG4 video is ideal for sharing over the Internet by e-mail, posting on Web pages or viewing on a compatible PC or television.

Print-quality 4" x 6" Photos
Don't let life pass you by for another second. Take digital pictures on the fly wherever you go with your SV-AV25. It takes print-quality 2-megapixel1 snapshots and offers a variety of functions rivaling those of a conventional full-size digital still camera. Great for sharing with family and friends.

Listen to MP3 or AAC Music Files
Listen to tunes on your SV-AV25? That's right--enjoy MP3 or AAC digital music files for up to four hours2. Ideal for the commute to work, exercising or tuning out your professor.

Voice Recorder
Did a great idea just enter your head? Run into a celebrity on the street? Nobody is going to believe you unless you recorded it on the SV-AV25. The built-in microphone lets you record sound onto an SD Memory Card in the same way as you would with an IC recorder.

Playback Video or Still Images on the Image Viewer
The SV-AV25 comes with a 2" diagonal LCD screen for quick, on-the-spot playback. It allows you to look at still images or video that you recorded with your D-snap SD Video Camera.


2-way Shooting Style
The SV-AV25 has two conveniently positioned REC buttons--making it easy for you to take pictures vertically or horizontally. And the LCD screen adjusts to your shooting style, so the picture on the display is always right-side up.

2.11 Total Megapixel CCD (1.95 Effective Megapixels).
With Power Save on, using the provided stereo earphones.