---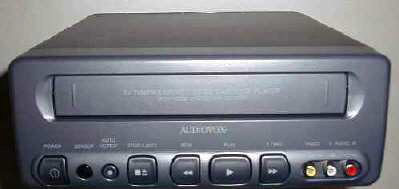 Audiovox Mobile Video

Audiovox AVP-7380 TV Tuner and Stereo Video Cassette Player with Voice Status Annunciator.

Features:
Front - loading VCP
Built - in TV Tuner with External Antenna Jack
Built - in Voice Status Annunciator with an External Speaker
3 monitor ports for driving 3 monitors
Front - mounted AV inputs for game/camcorder
Rear - mounted AV inputs for Aux.
REMIR for extending remote control sensor
OSD for Play, Stop, Fast Forward, Rewind, Dew and TV Functions
Universal Remote Control for TV / VCP
12 volt DC operation

This unit is for video playback only and is not a VCR and is not capable of recording.