---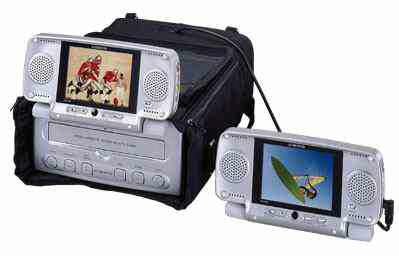 Audiovox VBP3000

Video in a Bag with TWO 5" LCD detachable monitors, TV Tuner, and Video Cassette Player.

Features:

2 Detachable 5" Multi-Source LCD Screens (3rd screen optional)

Screens can be held or can mount on the headrest in front of the viewer with included canvas mounting system

Can watch one or two video sources at once, video cassettes, tv or video games**

Cable ready TV Tuner*

Brightness control

Volume control

TV / Video cassette player switch

Headphone output jack

Audio / Video output jack

Audio / Video input jack

2 Monitor ports on VCP

Mono VCP with Rewind/Fast Forward/Stop/Play

Dew sensor

Full featured remote control

Backlit VCP buttons for easy use at night


ACCESSORIES:
Mounting straps for between the seat application
2 headrest mounting systems
Heavy duty canvas bag
Cigarette lighter adapter
Two 8' Video cables
Dipole antenna
AC/DC adapter

Headphones are optional and not included.

The VBP3000 can have up to 3 screens total. Two attached by cables and one attached directly to the body of the unit. Optional VBPEX56 3rd screen available below for additional cost.


*For best results vehicle should be stationary for TV reception. TV reception will vary based on location.

**Requires optional video game and power inverter.