---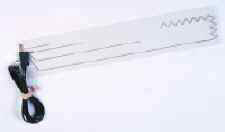 AN350 Window Mount TV Antenna

This new flexible antenna is made of clear acrylic and mounts to the inside surface of almost any vehicle window. There are no exterior parts to break, fall off, or be vandalized and is practically invisible once installed. This antenna was specifically designed to receive UHF/VHF TV signals that traditional headliner and foil antennas don't. Easy installation involves simply peeling off the portective film, sticking to vehicle glass, and connecting antenna (8 ft. included) to TV. Can be installed on both tinted and non-tinted glass.


Specifications:

Dimensions: 15-1/2"W x 3-7/16"H

Cable length: 8 ft.